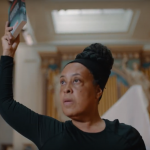 Directed By: June Campbell Davis ⎥ 2021 ⎥ 34m
A performance based inquiry into the presence of Black People.
The Solo Dance 'Sometimes we're invisible was inspired by a Victorian Dress. My questions and curiosity of what black people wore, those that lived here Britain since 1500's and why so little evidence in paintings or drawings. The Artes Mundi Commission began for me the process of uncovering – I wanted to create a solo dance piece that would take the audience on a journey back into the past- uncovering aspects of Slavery, through symbology, created soundscape, and contemporary movement in the form of Japanese Butoh style. My final realization is that I'm here today because my ancestor[s] survived the crossing from Africa to the Caribbean. And the Trauma of that crossing runs deep from generation to generation.